During the month of July, the project LIFE FALKON has transferred 30 lesser kestrel chicks from Matera to the nesting tower "Matteo Griggio" in Baricella, in the province of Bologna.
This transfer, foreseen by the conservation action plan of the project, is not aimed at the repopulation of the species in the Po Valley, but at encouraging and accelerating the colonization of the nesting towers built by the project and to increase the proportion of colonies settled on stable buildings and in safe places.
The chicks were transported during the night by car, ensuring maximum comfort and safety conditions for the little travelers! At first light, the LIFE FALKON team made up by ISPRA, UMIL  and CNR personnel left the chicks in their new nests.
Following the transfer, we moved to the heart of the action with the hacking activities, namely the breeding of chicks that were left free to enter and exit the tower and daily fed, but without getting into contact with the staff of LIFE FALKON.  The project team also installed video cameras that allowed us to observe the behavior and interaction between the transferred individuals and the wild lesser kestrels.
In fact, a few days after the arrival of the chicks, the first wild birds started to regularly visit the tower, attracted by the presence of the chicks and of two adults no longer able to fly and coming from the Wildlife Recovery Center of Bitetto (Bari), hosted in a large space adjacent to the tower.  
On July 14, the first of the Matera chicks took flight in the Po Valley, followed by all the others once they reached the right age. After the first flight tests, the young lesser kestrels continued to regularly visit our tower to be fed, before leaving it by the end of August.
The sense of belonging of the chicks to their new home gives us hope that soon a true colony of lesser kestrels will be established in this wonderful tower. The LIFE FALKON project wishes its former chicks good luck for their free flights!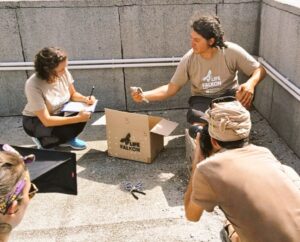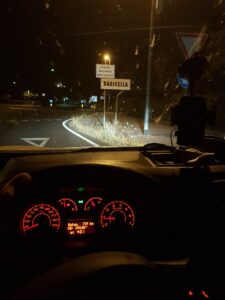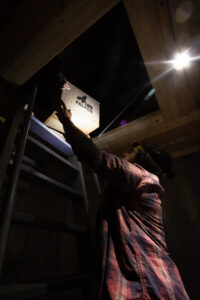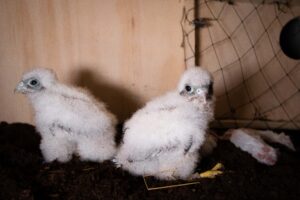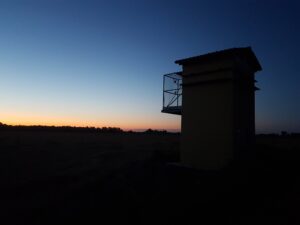 2 August 2021