26 August 2019
Cluj-Napoca (Romania)
LIFE FALKON at the European Congress of Ornithology
https://conference.eounion.org/2019/
10 September 2019
ISPRA - Ozzano dell'Emilia (Bologna)
Technical meeting – Projecting the nesting towers for Lesser Kestrels of the Po Plain
25 September 2019
Naples (Italy)
LIFE FALKON at the Italian Congress of Ornithology
https://xxcio.ardeaonlus.it/en/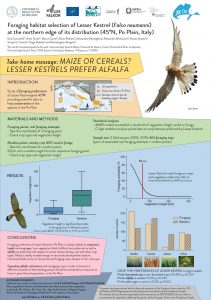 24 March 2019
Stazione Ornitologia Modenese (SOM) - Via Montirone, Mirandola, (Modena, Italy)
LIFE FALKON presentation to local citizens
The entire Sunday Morning will be dedicated to the presentation of LIFE FALKON!
https://it-it.facebook.com/pages/category/Nonprofit-Organization/SOM-Stazione-Ornitologica-Modenese-Il-Pettazzurro–670464242995736/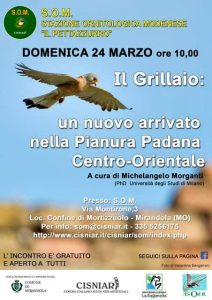 14 February 2019
Mirandola (MO)
Technical meeting – Municipality of Mirandola (MO)
12 February 2019
Rome
LIFE FALKON – First Monitoring Visit
On 12th February 2019, the 1st Monitoring visit will be held for the LIFE FALKON Project at TECLA's premises in Rome. The visit will be structured in two sessions, with the representative of the NEEMO external Team, Mrs. Chiara SPOTORNO, assessing both the Project technical and financial progress and the administrative documentation produced by the consortium. All partners will attend the meeting.
8 November 2018
Brussels
LIFE17 Kick-off meeting NATURE in Brussels
The LIFE FALKON Project has attended the Kick-Off Meeting for NAT and GIE LIFE17 projects on 8 and 9 November 2018 in Brussels. The aim of the meeting, organized by the European Commission, Executive Agency for Small and Medium-sized Enterprises (EASME), was to provide the beneficiaires with an overview of the relevant policy topics, the LIFE Programme rules, the interaction with EASME and the role of the external monitoring team in project implementation. Financial and technical issues, as well as project reporting, dissemination and communication matters, were discussed.
This Kick-Off Meeting was also used as a networking platform among the participating projects sharing common priority areas. LIFE FALKON participated in Group III dedicated to Birds & Environmental Crime.
12 October 2018
Ozzano dell'Emilia (Bologna)
LIFE FALKON Project kick off meeting
Friday 12th October 2018 the Association TECLA, as Coordinating Beneficiary, led the kick off meeting of the LIFE FALKON Project, held in Ozzano dell'Emilia (Bologna) at the premises of ISPRA. The event was the occasion to appoint formally the project Steering Committee and to provide the partners (ISPRA, UNIMI, HOS, ALDA) with technical and financial guidelines, as well as to discuss technical issues on project actions and planning. The project road map and communication plan were also approved.