On the evening of October 22 in Poggio Rusco was held the conference "Nature Conservation and Climate Change: The case of the lesser kestrel", an event aimed to raise awareness about the lesser kestrel and the threats that climate change poses to this species.
The conference was attended by approximately 30 people, amongst whom many local stakeholders, including members of environmental associations, farmers, and the general public.
The event was organized by SIPOM – Oltrepò Mantovano Park System, that invited LIFE FALKON to present the activities carried out in the Project Area of the Po Plain in these last years. Michelangelo Morganti (Project Manager, CNR) introduced the challenges of biodiversity conservation in an era of global change and then presented the project and its research and conservation actions. 
A growing number of people are becoming aware of the importance of contrasting climate change and its impact on our ecosystems, and the lesser kestrel is an excellent model species to represent this challenge. Indeed, the concrete actions realised by LIFE FALKON will favour the entire biodiversity of the Project Areas. 
The LIFE FALKON project will persist in its efforts to raise awareness about the importance of safeguarding the lesser kestrel and biodiversity in agricultural landscapes.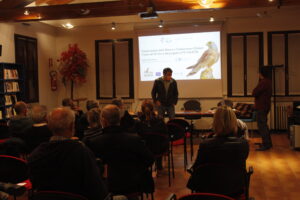 25 October 2021