On 14 October 2018 in Mirandola (Modena), some representatives from UMIL and ISPRA (LIFE FALKON partners) attended the annual meeting of the SOM (Stazione Ornitologica Modenese). The SOM is a local association working on bird study, conservation and nature protection which coordinates a variety of projects on environmental education. SOM volunteers realized some internal research projects contributing to data collection of international survey programs (i.e. IWC) and offered support to research institutes interested in realizing investigation/conservation programs in their area of interest (central-eastern Po Plain). Additionally, SOM volunteers – in line with the main goal of the LIFE FALKON Project – have also monitored the establishment and the expansion of the lesser kestrel local population since its first breeding attempts.
Considering the common work implemented by this local association and the LIFE FALKON project, our consortium was officially invited to participate to the event in which over 100 participants took part and in which the actions of the project were officially presented to the wide public.
The participation of the LIFE FALKON representatives to the SOM meeting represented a precious opportunity to consolidate a long-lasting relation with SOM coordination group and established a series of new contacts that will be certainly useful to the aims of LIFE FALKON project in the forthcoming years. Furthermore, local nature passionate citizens had the opportunity to discover initiatives which will be implemented by the LIFE FALKON within their living area.
Thanks to this event, SOM is now supporting the LIFE FALKON project sharing some relevant field data and reporting any occurrence that may be of interest for the project.
In spring 2019, SOM will host an event entirely dedicated to  the presentation of LIFE FALKON, stay tuned on our socials and website for details on this event!
Have a look at the pictures of the annual meeting of SOM: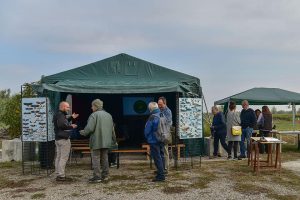 14 October 2018