From the 18th to the 21th September, LIKE FALKON participated in the Lesser Kestrel Balkan Expert Workshop in Bulgaria, organized by the Green Balkans in the framework of the project  LIFE for Lesser Kestrel – LIFE19 NAT/BG/001017.
Focused on conservation of the Lesser Kestrel in the Balkans and neighbouring countries, the workshop was targeted to experts, non-governmental organizations and scientific structures who work in lesser kestrel conservation. Over 30 experts from most of the Balcans, together with Spanish, French and Italian contributors presented their conservation initiatives and projects targeted on Lesser kestrel.  The experts also met up at informative posters corners, and assisted on a field visit to the Lesser kestrel colony restored by Green Balkans in eastern Bulgaria.
Within this framework, a LIFE FALKON poster was displayed and an informative workshop about the LIFE FALKON project was organized with a speech by Giacomo Assandri from ISPRA, on how wind farms may affect lesser kestrel populations at EU scale.
This workshop gave to the LIFE FALKON team the opportunity to connect in person with other experts committed to the protection of the species, share experiences, increase our network and discuss new approaches to strengthen the lesser kestrel conservation in Europe. We have also announced to the Lesser Kestrel community the 2023 international closing conference of LIFE FALKON.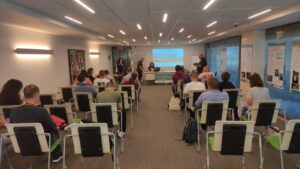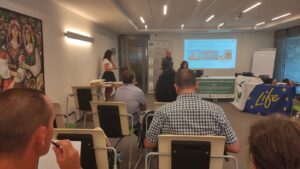 30 September 2022